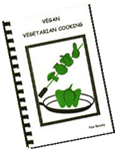 Home Page

Corrections

Corrections to book Vegan Vegetarian Cooking

1.) Recipes that call for Worcestershire sauce refer to vegan varieties of Worcestershire, for example "Annie's Naturals Organic Worcestershire Sauce" or "The Wizard's Organic Original Vegan Worcestershire Sauce." Both are commonly found in health food stores or larger grocery stores.


For a PDF file copy of corrections that you can print and keep with the book, click here.




All content ©1997-98, 2002, 2008 by Pam Rotella. Reproducing for resale is prohibited.